Help Save the Monarch Butterfly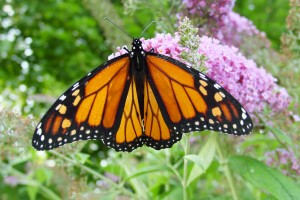 Just before the New Year, the U.S. Fish and Wildlife Service announced it will be reviewing the status of the monarch butterfly in order to determine whether it should be listed under the Endangered Species Act (ESA). The action followed submission of a petition from the Center for Biological Diversity, the Center for Food Safety, the Xerces Society for Invertebrate Conservation and Dr. Lincoln Brower to list a subspecies of monarch (Danaus plexippus plexippus). The petition stated that "The monarch is an iconic large orange and black butterfly that is one of the most familiar butterflies in North America. During summer monarchs can be found throughout the United States and southern Canada in most places where milkweeds (Asclepias spp.), their host plants, are available. Each year monarchs undertake a spectacular multi-generational migration of thousands of miles to and from overwintering and breeding areas. Most monarchs east of the Rocky Mountains migrate from southern Canada and the northern United States to the mountains of interior Mexico to overwinter. Most monarchs west of the Continental Divide migrate to coastal California."
The monarch habitat is being destroyed as its migration routes from Mexico through the U.S. and into Canada are being taken over by mega farms growing corn and soybeans where milkweed once grew. Milkweeds are the only plant species on which monarchs lay their eggs.
According to the petition, "The best available scientific information indicates that the monarch butterfly is threatened in a significant portion of its range…. by, among other things, pesticide use from genetically engineered, pesticide-resistant crop systems that kill milkweeds and nectar sources, as well as by development, logging, and climate change."
Help stem the deep decline in the monarch population by planting milkweed plants everywhere. Plant them as soon as weather permits and act beyond your garden. Encourage your community to try highways, school fields, empty parking lots, industrial areas, parks and even ditches. The Land Alliance is maintaining stands of common milkweed, swamp milkweed and butterfly weed at 95 Shore Road in Cold Spring Harbor and the Hope Goddard Iselin Preserve in Upper Brookville.
To submit comments about listing the monarch butterfly under the Endangered Species Act by the March 2, 2015 deadline, visit www.regulations.gov docket number FWS-R3-ES-2014-0056.
---
Things your family can do at home to protect our water supply
| | | |
| --- | --- | --- |
| Action | | Amount Saved |
| Fix a Leaky faucet | | 3 gallons per day (But first count the number of drops per minute that leak!) |
| Install a bottle filled with water in your toilet tank so that amount of water will be displaced each time you flush the toilet. (Or use a low flow toilet that uses 1.5 gallons of water per flush.) | | 5+ gallons per day |
| Install a barrel at the base of roof gutters to collect rainwater for plants and gardens (and reduce runoff into storm drains). | | Depends on avg. rainfall |
| Turnoff the faucet when you are brushing your teeth. | | 2 gallons per minute |
| Reduce your shower time by 2 minutes. | | 10 gallons |
| Refrigerate tap water to drink instead of running tap until water cool | | 200 gallons per month |
| Use extra tap or cooking water to water plants instead of running fresh water | | 200 gallons per month |
---
Start Planning a Spring Pollinator Garden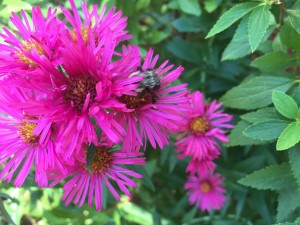 "Cold winter days are a great time to start planning a spring pollinator garden. Pollinating animals such as birds, bees, bats, and butterflies are critical to our food and ecosystems. You can invite pollinators to your neighborhood by planting a pollinator friendly habitat in your garden, farm, school, park or just about anywhere." Click here to learn more about ways to attract them to your garden here.
---
Shop Locally for your Holiday Fixings or For Your Healthy Treats
Posted 12/12/2014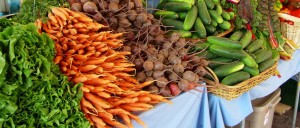 There is a growing trend among Long Islander's to grow, buy and eat locally grown food.  Eating a well-balanced diet that includes plenty of produce has been linked to numerous health benefits, so it only makes sense to buy food from a nearby farm, farm stand, or local market that supports your local food sources.  It's a healthy move for you and your family, the environment and your community.
Listed below are a few locations where you can shop locally this holiday season:
Bob's Natural Foods: 104 West Park Avenue, Long Beach, NY 11561, (516) 889-8955
Eden's Way Natural Foods: 37 Broadway, Massapequa, NY 11758, (516) 798-5670>
Food For Thought (Garden City): 154 7th Street, Garden City, NY 11530, (516) 747-5811
Jandi's Natural Market and Organic Cafe: 3000 Long Beach Road, Oceanside, NY 11572, (516) 536-5535
The Health Nuts (Great Neck): 45 Northern Boulevard, Great Neck, NY 11021, (516) 829-8400
Trader Joe's: 1714 Merrick Road, Merrick, NY 11566, (516) 771-1012
Trader Joe's: 425 S. Oyster Bay Road, Plainview, NY 11803, (516) 933-6900
Twin Pines Co-op: 382 Main Street, Port Washington, NY 11050, (516) 883-9777
Wild By Nature (Oceanside): 2709 W Long Beach Road, Oceanside, NY 11572
Whole Foods Market (Jericho): 429 North Broadway, Jericho, NY 11753, (516) 932-1733
Youngs Farm: 110 Hegemans Lane, Glen Head, NY 11545, (516) 626-3955
Natural Choice Healthmarket: 287 Merrick Road, Rockville Centre, NY 11570, (516) 766-1703
Organic Corner Health Market & Juice Bar: 37 Broadway, Massapequa, NY 11758, (516) 798-5670
Rising Tide Natural Market: 42 Forest Avenue, Glen Cove, NY 11542, (516) 676-7895
---
 North Shore Land Alliance would like to encourage everyone to stay active this winter by getting outdoors.  Each week we will provide you with something new and fun you and your family can do this winter.
Ice skating: It's Fun and Offers a Variety of Benefits
Posted 12/5/2015
With the warm weather behind us, there are still plenty of activities you can do this winter to stay fit, get outdoors and have some fun.  Enjoyed by millions of people each year, ice skating is considered a great pastime activity that provides skaters with a diverse range of health and fitness benefits. 
As with walking, jogging or swimming, Ice skating provides skaters with a low impact aerobic workout, especially if they're not jumping.   Ice skating can also help sculpt and tone your leg and abdominal muscles while strengthening your lower back.  Skaters can also improve their endurance and balance, if they maintain a constant, steady pace over a longer period of time.  Other physical advantages of ice skating includes reduced stress levels, mental clarity and improved flexibility.
For families and couples, it's also a great time to get together and strengthen your relationships. 
If you're ready to start gliding for fun, fitness, or just getting together, please contact one of these indoor or outdoor ice skating facilities for directions, skating sessions and fees. You can also search online for other nearby rinks:
1.      Cantiague Park Ice Rink (Nassau County Park) – 480 West John Street, Hicksville, NY 11801 | Phone 516-571-7056
 2.      Christopher Morley Park Rink (Nassau County Park) – 500 Searingtown Road, Roslyn, NY 11576 | Phone: 571-8113
 3.      Grant Park Ice Skating Rink (Nassau County Park) – Broadway at Sheridan Avenue, Hewlett, NY 11557 | Phone: 516-571-7821
4.      The Rinx at Harborfront Park – 101-A East Broadway, Port Jefferson, NY 11777  | Phone: 631-403-4357 | www.therinx.com
5.      The Rinx at the Town of Oyster Bay Ice Skating Center – 1001 Stewart Avenue, Bethpage, NY 11714 | Phone: 516-433-7465 | www.therinx.com
 6.      The Rinx at Hidden Pond Park:  660 Terry Road, Hauppauge, NY 11788 | Phone: 631-232-3222 | www.therinx.com
7.      The Skating Club of New York: 61 Chelsea Piers, 2nd Floor, NY, NY | Phone: 212-336-6100 | www.chelseapiers.com
8.      Twin Rinks Ice Skating Center at Eisenhower Park – 200 Merrick Avenue, East Meadow NY 11554 |Phone: 516-441-0070 |  www.twinrinkseisenhower.com
9.      Port Washington Skating Center: 70 Seaview Boulevard, Port Washington, NY 11050 | Phone: 516-484-6800 | www.pwskating.com
10.  Superior Ice Rink – 270 Indian Head Road, Kings Park, NY 11754 | Phone: 631-269-3900 | www.superioricerink.com
11.  Syosset-Woodbury Community Park – 7800 Jericho Turnpike, Syosset, NY 11791 | Phone: 516-677-5999 | www.oysterbaytown.com