Visit a Local Preserve to Enjoy the Sweet Pepperbush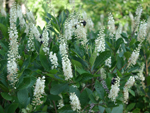 Now is the time to enjoy the delightful aroma of sweet pepperbush (Clethra alnifolia) in many local preserves, among them Shu Swamp in Mill Neck and Roosevelt Preserve in Roosevelt and Freeport. These wonderful native shrubs in late summer produce stalks of white flowers that are not only pleasing to the eye and nose but attract hummingbirds and butterflies. The fruit is eaten by birds and fruiting stalks persist through winter, showing small dark gray capsules that look like peppercorns. While versatile, this shade- and salt-tolerant shrub thrives in moist soils. It may make an ideal addition to your garden.
---
Pick some Fresh Local Produce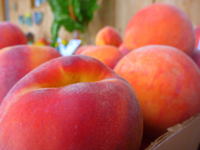 August is a great time to pick your own produce-from farm fresh peaches to seasonal vegetables. There are many farms located on Long Island where you can pick your own, but here are a few suggestions. Please remember to always call ahead for availability!
1. Doug Cooper Farms, 220 Breakwater Road,  Mattituck, NY 11952,  631 298-5195
2. Fort Salonga Farm, 30 Meadow Glen Road, Northport, NY 11768,  631 269-9666
3. Fritz Lewin Farm, Corner of Sound; Edwards Avenue, Calverton, NY 11933,  631 727-3346
4. F & W Schmitt Farms, 26 Pinelawn Road, Melville, NY 11747, Phone: 631 271-3276
---
Catch Them While You Can!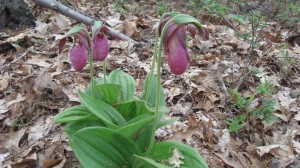 Winter dragged on forever this year but the spring ephemerals have officially arrived and it is time to get outside and catch them while you can. These perennial wildflowers begin to appear as soon as temperatures start to warm. Their rapid growth is encouraged by the sun present in woodlands before the deciduous trees and shrubs leaf out. And they disappear when temperatures get too hot. In a brief six-to-eight-week period, they manage to leaf, bloom, spread, go to seed and delight those who explore the woodlands where they abound.
We encourage you to get into the woods to take advantage of the unfurling skunk cabbage (Symplocarpus foetidus), the brightly colored marsh marigold(Caltha palustris) and a host of spring ephemerals that includes wood anemone (Anemone quinquefolia), white wake-robin (Trillium grandiflorum), Virginia bluebell (Mertensia virginica), bloodroot (Sanguinaria canadensis), trout lily (Erythronium americanum) and squirrel corn (Dicentra canadensis). 
The success of local land conservation efforts relies heavily upon our ability to connect our community with the nature around us. If people experience nature and learn more about the important services nature provides us, they are more likely to make the political choices that ensure a healthy and sustainable future.  Click here for a sampling of local parks and preserves where spring ephemerals can be found.