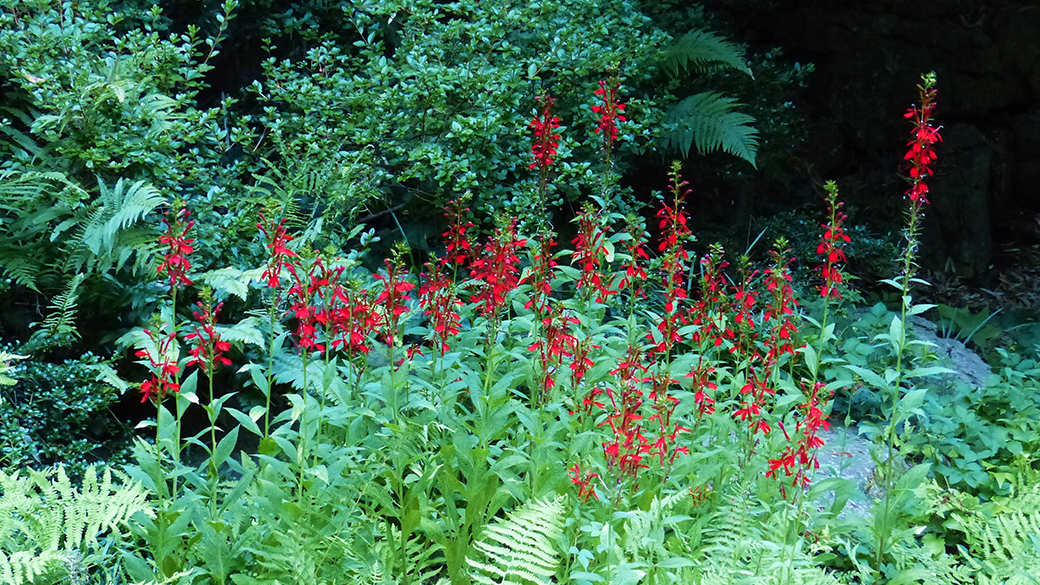 Walk through the Japanese Stroll Garden and Shu Swamp
Led by Ann Lotowycz and Mary Schmutz
Saturday, August 28, 2021, 10:00 am
John P. Humes Japanese Stroll Garden and Shu Swamp, Mill Neck
Learn all about iconic cardinal flower (Lobelia cardinalis), its value to wildlife and a research project when its striking bloom marks its presence.
Registration is required!
Walk dates, times and locations are subject to change. Please check our website for updates.  For more information about our Walks in the Woods, please contact Jane Jackson at 516-922-1028 or jjackson@northshorelandalliance.org.
About the John P. Humes Japanese Stroll Garden
This unique and historic 7-acre gem of landscape design and woodland boasts an impressive collection of North American and Asian plants that constitute a beautiful Japanese landscape and impart a meditative experience. The landscape was inspired by a mountain setting by the sea. A stunning stepping stone path is one of the defining features found on this property and was inspired by the intimacy of a mountain path. A gentle climb through the woodland part of the garden will lead you to a "mountain peak". There you will meet the gravel path representing a stream that will guide you to an authentic pondside tea house.