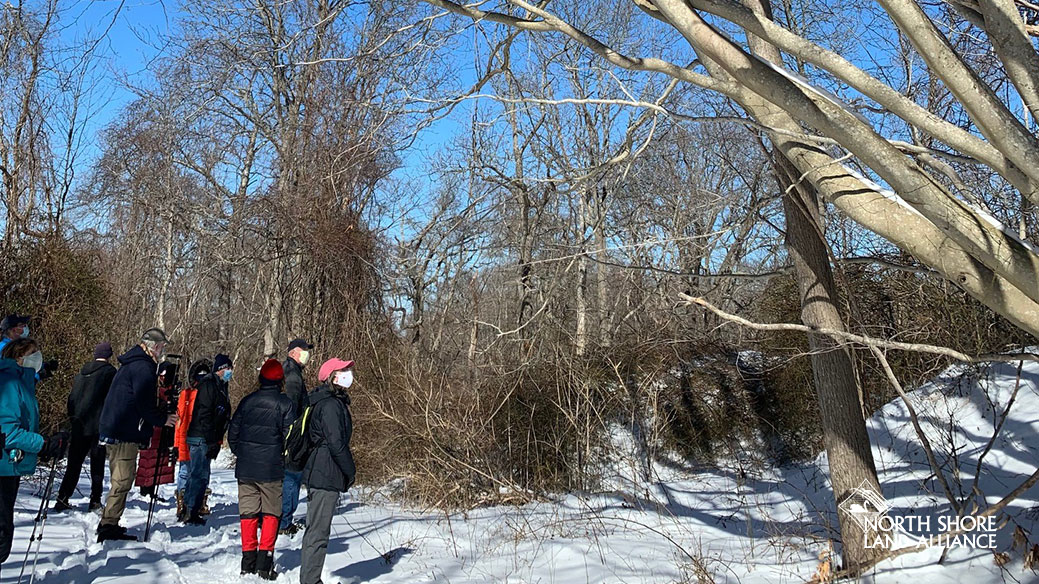 Walks in the Woods & Other Cool Things To Do Outside
Saturday, December 10, 2022, 11:00 am
Humes Preserve
349 Oyster Bay Road, Mill Neck, NY 11765
Led by Jane Jackson
The Beaver Brook watershed's biodiversity is noteworthy for Long Island – even though it is a mere 20 miles from New York City. Spanning parts of Matinecock, Upper Brookville and other villages and much of Mill Neck, the Beaver Brook watershed is one of Long Island's most treasured and ecologically valuable natural areas.
The brook starts as a trickle between Piping Rock Club in Locust Valley and Planting Fields Arboretum in Upper Brookville. It flows northward, forming a small pond before it passes under Oyster Bay Road. There it enters Upper Francis Pond, where a pair of Osprey have nested for years. After narrowing to a creek again for a few hundred feet at the spillway at the pond's northern edge, it forms Lower Francis Pond and then passes through a culvert under Frost Mill Road. North of that it flows into the Humes Preserve; continuing northward the brook enters Shu Swamp. Finally, the brook makes its way to Beaver Lake, beyond which the Mill Neck Creek estuary passes into Long Island Sound.
With a focus on covering some ground in this spectacular corridor of conserved land, this hike will warm you up!
This walk is free of charge, but advanced registration is required!
Events are subject to change. Please check our website for updates. For more information, contact Jane Jackson at 516-922-1028 or jjackson@northshorelandalliance.org.
2022-12-10 11:00
2022-12-10 11:00
America/New_York
Hike One of Long Island's Most Treasured and Ecologically Valuable Natural Areas.
Saturday, December 10, 11:00 am – The Beaver Brook watershed's biodiversity is noteworthy for LI.
Meeting at Humes Preserve
andrea@northshorelandalliance.org