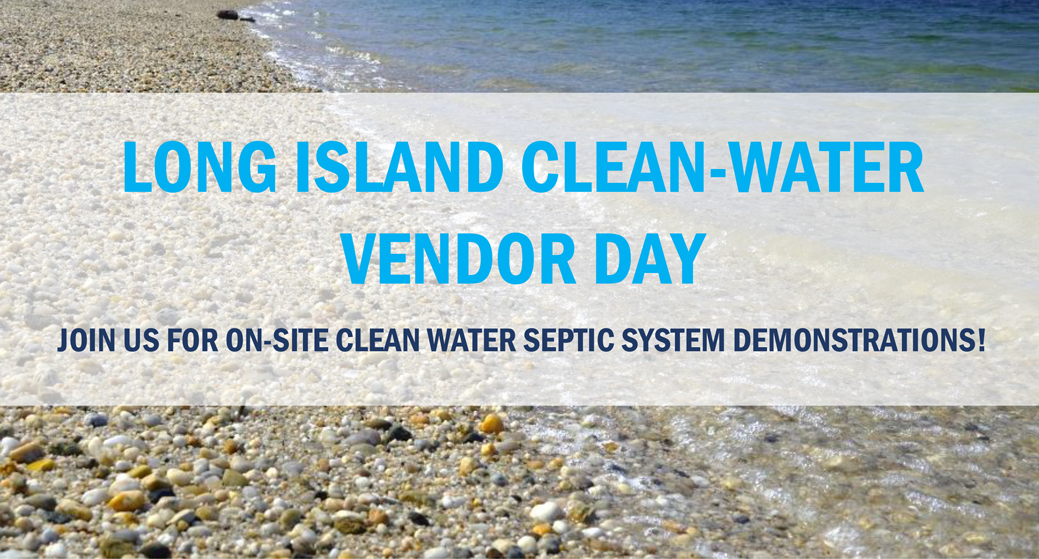 &nbsp
Long Island Clean-Water Vendor Day
Wednesday, July 14, 2021 from 11:00 am - 2:00 pm
Fireman's Field, Oyster Bay (Corner of Shore Avenue and Maxwell Avenue)
Did you know outdated septic systems are the number one cause of nitrogen pollution on Long Island? Nitrogen pollution has resulted in harmful algal blooms, thick mats of seaweed, fish kills and the overall decline of the shellfish industry. Swapping outdated septic systems with clean-water technology can remove more than 70% of nitrogen pollution from our wastewater.
Want to know more about how you can help improve water quality on long Island?
Join us on Long Island Clean-Water Vendor Day to see septic systems designed to reduce nitrogen pollution in Long Island' rivers, beaches, and bays. Attendees will have the opportunity to ask questions about clean-water technology from expert distributors themselves. Clean-water septic tanks and their accessories will also be out on display. Representatives from Nassau's S.E.P.T.I.C. program will be available to help you learn about reimbursements as much as $10,000 to replace outdated and failing septic systems.
For more information, please contact the North Shore Land Alliance's Water Quality Improvement Coordinator at (516) 922-1028 or Katherine@northshorelandalliance.org.
2021-07-14 11:00
2021-07-14 14:00
America/New_York
Long Island Clean-Water Vendor Day
Wednesday, July 14, 11:00 am – Learn about clean-water septic systems that can remove up to 90% of nitrogen from wastewater. Registration Required
Firemans' Field
andrea@northshorelandalliance.org