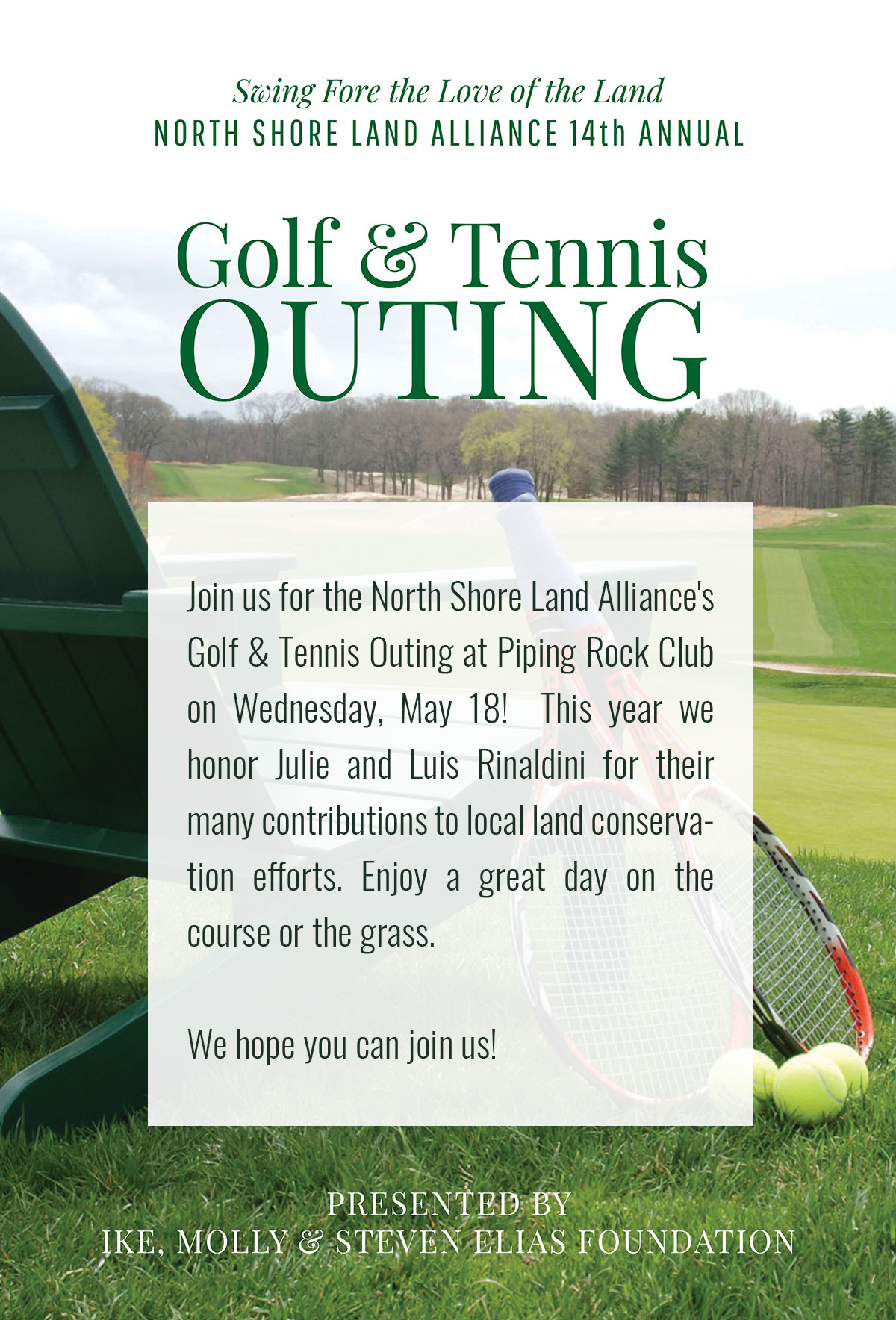 Wednesday, May 18, 2022
Piping Rock Club
150 Piping Rock Road, Locust Valley, NY
Join us on Wednesday, May 18th, for our annual Fore the Love of the Land Golf & Tennis Outing at Piping Rock Club. Your support and participation allow us to continue our conservation efforts, including the ongoing stewardship of our nature trails, educational initiatives such as Walks in the Woods and the Long Island Water Education Program, and interactive communal sites such as our popular Roosevelt Community Garden.  Every contribution counts toward maintaining and bettering our community.  We hope you will join us in this effort!
Please take a moment to consider becoming a sponsor, underwriter, or golf or tennis player.  If you are unable to attend, please consider making a donation or purchasing an advertisement in our online golf journal.
EVENT CHAIRS
Chad Brisbane * John Casaly and Louise Parent * Kim Como
Nick Leopardi * Alexis McAndrew * Bryan McMillen
Caroline and Tim Mullen * Terry Parsons * Mary and Russell Selover
For any event-related questions, please contact Liz Swenson at liz@northshorelandalliance.org.
Honoring Julie and Luis Rinaldini
Co-founders and trustees of the North Shore Land Alliance and local conservation leaders
This year we are pleased to honor Julie and Luis Rinaldini for not only being an integral part of the Land Alliance's formation but for leading local conservation efforts in both word and deed.
For more than 20 years, they have worked tirelessly to spread awareness, connect land and people and build a conservation ethic in our community. Their generosity and commitment have had no bounds. Time and time again, they have graciously hosted Land Alliance events at their beautiful property and, for more than a decade, housed Land Alliance staff in their historic barn. Both Luis and Julie have been extraordinarily generous with their talents and their means. We cannot think of any couple more worthy of this acknowledgment.
2022-05-18 08:00
2022-05-18 08:00
America/New_York
Golf and Tennis Outing Fore the Love of the Land
Wednesday, May 18, 8:00 am – Join us for our Annual Golf & Tennis Outing in honor of Julie and Luis Rinaldini for their many contributions to local land conservation efforts.
Piping Rock Club
andrea@northshorelandalliance.org