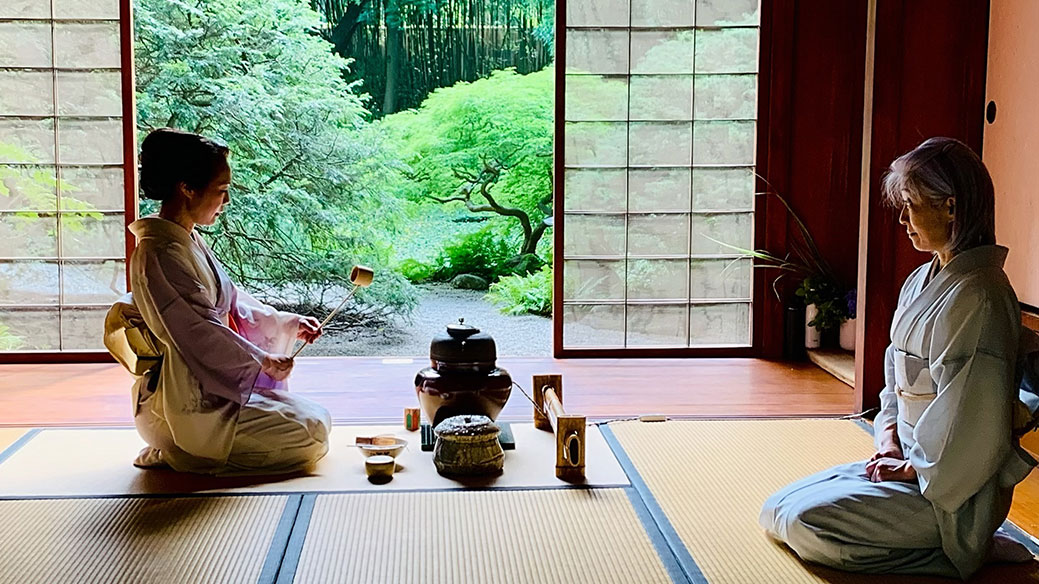 The Way of Tea - A Traditional Japanese Tea Ceremony
Saturday, October 7, 2023 at 5:00 pm
John P. Humes Japanese Stroll Garden
3 Dogwood Lane, Locust Valley
Led by Omotesenke Domonkai, Eastern Region, USA
The Japanese tea ceremony is an important part of Japanese culture.  It revolves around the appreciation of matcha (green powered tea) and is a way to experience hospitality.  If you're curious about this formal and beautiful ceremony, join Keiko Kitazawa, Secretary General of the Eastern Region for today's tea ceremony demonstration.
Omotesenke is one of the schools of the Japanese tea ceremony. It has a 450-year history and 60,000 members in Japan and the Eastern Region here was founded in 2010 in New York.
Free for Humes Japanese Stroll Garden Members. Space is limited to 25 persons. Parking is limited. Events are subject to change so please check our website for updates.
Registration is Required! Online registration for this event will begin on August 1st.
For more information about this event or programs at the Stroll Garden, contact Jane Jackson at 516-922-1028 or [email protected]
Become a Friend of the John P. Humes Japanese Stroll Garden
The Land Alliance relies on the generous support of our community to do our work. Your contribution will help expand educational programming at the Garden, maintain the property and ensure it's available for the community for years to come.
2023-10-07 15:30
2023-10-07 19:00
America/New_York
The Way of Tea – A Traditional Japanese Tea Ceremony!
Saturday, October 7th, 3:30 pm – Join us at the Humes Japanese Stroll Garden for a traditional Japanese Tea Ceremony – the art of preparing and serving tea.
John P. Humes Japanese Stroll Garden
[email protected]